Who we are...
"Our designs are an experience. We combine cutesy with a little bit of arts & crafts and functionality. Not only do we focus on creating pieces full of detail that look incredible, but pieces that provide a moment for you and a loved one to sit down and work on something together..." READ MORE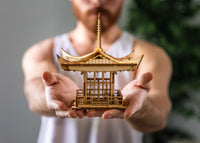 Artisan crafts, thoughtfully packaged = Unique gift ideas!
We focus on each design, getting the details right.  This is a process that can take weeks or months, depending on the piece. In our Laser Cutting studio we take impossible ideas and turn them into reality!
Japanese Pagoda Lantern
Simple to build
Our pieces arrive flat-packed with parts on each wooden page. Just pop out the pieces and snap them together. Choose your finish, or leave it natural, too!
Craftsman Birdfeeder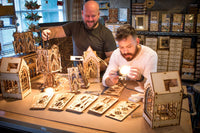 Exclusive design ideas!
Details matter, so getting them right makes all the difference. We spend weeks or months to get any piece ready to build. Creating a miniature scale piece from start to finish is a passion. Our studio was founded on bringing ideas from paper sketches all the way through a finished kit, manufactured out of our fleet of laser cutters in the garage.
Gothic Cathedral Lamp
Let customers speak for us